Blackpool Winter Gardens – until 27 August 2022
Reviewed by Debra Skelton
5*****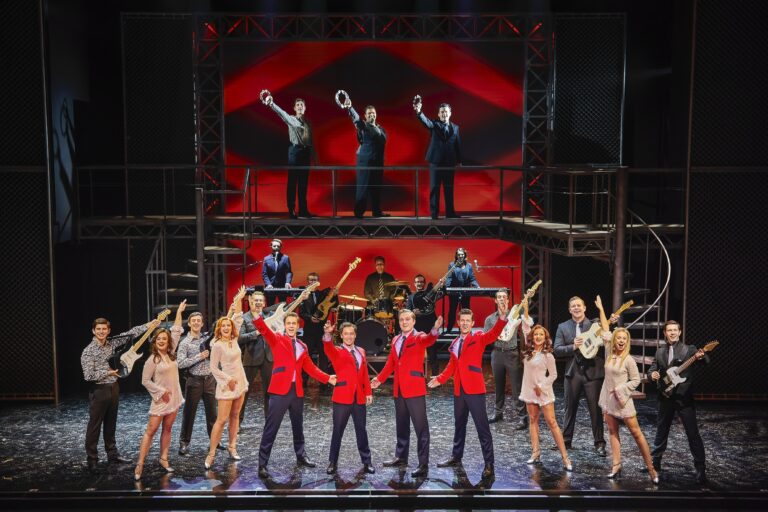 "OH, WHAT A NIGHT – That is what Blackpool is in for when watching this spectacular performance of Jersey Boys"
I have never had the opportunity to watch this production and was pleased to hear that it would be gracing the boards at The Winter Gardens Blackpool for the first time.
For me this was a true evening of pure entertainment and delight and was a change to the musicals that I have seen recently that have been adapted from books and movies. To tell the true story and I mean the true story (not a tribute concert) off an extraordinary musical group was to me a real challenge and it is hats off to film writer Marshall Brickman and theatrical advertising executive and writer Rick Elice for produce something so spectacular.
Jersey Boys is a musical biography of the Four Seasons – the rise, the tough times and personal clashes, and the ultimate triumph of a group of friends whose music became symbolic of a generation.
The story revolves around the relationships of the group with a special focus on frontman Frankie Valli, the small kid with the big falsetto. It shows the coming of age of the quartet as performers with the heart of the show about the allegiance to a code of honour learned in the streets of their native New Jersey that helped them push through challenges, gambling debts, Mafia threats and family disasters. Jersey Boys is a glimpse at the people behind a sound that has managed to endure for over four decades in the hearts of the public.
The soundtrack for the musical was vast and just as a tease, you will be treated to hits such as Earth Angel, Big Girls Don't Cry, Walk Like a Man and Can't Take my Eyes Off of You.
This production starred Michael Pickering as Frankie Valli, Blair Gibson as Bob Gaudio, Dalton Wood as Tommy DeVito and Lewis Griffiths as Nick Massi who were supported by an incredible cast. Their voices can only be described as out of this world and along with their acting talents created such a presence on stage and a standing ovation at the end.
The production also needs special thanks to Klara Zieglerova for creating such an adaptable set, Steve Canyon Kennedy for the wonderful sound, Howell Binkley for the dazzling lighting, Sergio Trujillo for the streamlined choreography and Jess Goldstein for the authentic costumes.