Leeds Grand Theatre – until Saturday 6th August 2022.
Reviewed by Michelle Richardson
5*****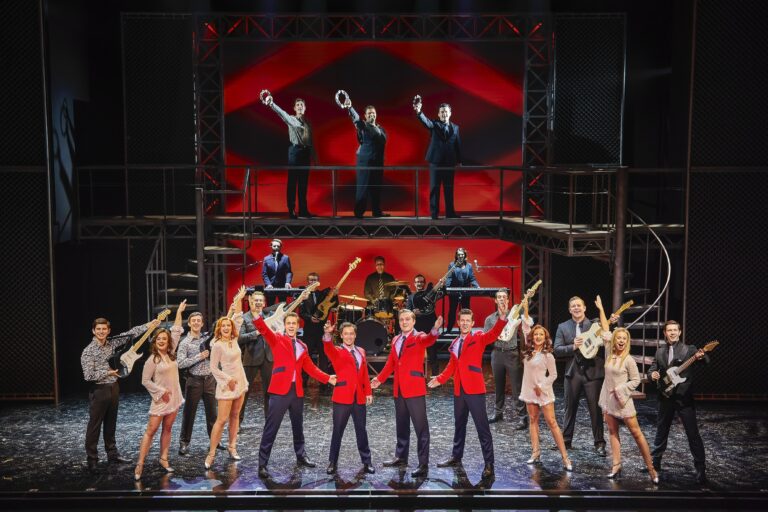 This was my second visit to this wonderful ornate theatre and the first time I've seen Jersey Boys on stage. Though the musical is about The Four Seasons and their music, who were at the height of their fame, at least a generation before me, I was excited at being given the opportunity to review this musical.
Jersey Boys tells the true story of how four ordinary American-Italian boys, from New Jersey, became The Four Seasons and rose to fame in the 1960's. Starting out on the streets of New Jersey, the boys are eager escape their "wrong side of the tracks" existence, and a life of crime that seems to be their future. Tommy DeVito (Dalton Wood) starts up the band, which undergoes several name and personnel changes. The end result, along with DeVito, is lead singer Frankie Valli (Michael Pickering), Nick Massi (Lewis Griffiths) and Bob Gaudio (Blair Gibson), who wrote many of their hits.
Each member of the band directly addresses the audience, detailing the rise and fall of the band. It is a rollercoaster of a ride, with tales of crime, the mob, never ending touring, huge success and great loss, but also a story of endurance and perseverance, culminating in their induction to the Rock and Rock Music Hall of Fame.
Each of the four leads bring something different to the performance and work so well together. Woods is full of swagger, and mouthy, as the irrepressible DeVito. Griffiths is immaculate as Massi, a wink here and there to the audience, very personable, with some great witty lines. You can't help but admiring Gibson as Gaudio. Last, but certainly not least, is Pickering. When he first sang Sherry, with his amazing falsetto, I had goosebumps. It can't be easy singing in that unique voice, but he pulled it off and more. Their vocals as a group were really stunning to hear, and their sharp dance moves were really on point.
The ensemble and supporting cast are incredible, they work extremely hard. They all play various roles, with great vocals and dance moves, all to live music. The staging was simple, but effective. A scaffold style set with staircases on either side and a walkway overhead, with chairs, tables and beds wheeled on and off the stage.
This true story doesn't shy away from reality, it's informative and interesting, and left me yearning to find out more. You will be amazed at how many hits they did have, and how many more were written by the Gaudio and Crewe partnership.
Whilst this show is currently touring the UK, the one and only Frankie Valli was performing up the coast in Scarborough last month, a great feat for an 88 year old.
Jersey Boys is a treat of a show, a perfect blend of great music and story, packed full of so many fantastic hits. A sensational musical that is not to be missed. OH, WHAT A NIGHT!