Nottingham Theatre Royal – until Saturday 4 December  2021
Reviewed by Louise Ford
3***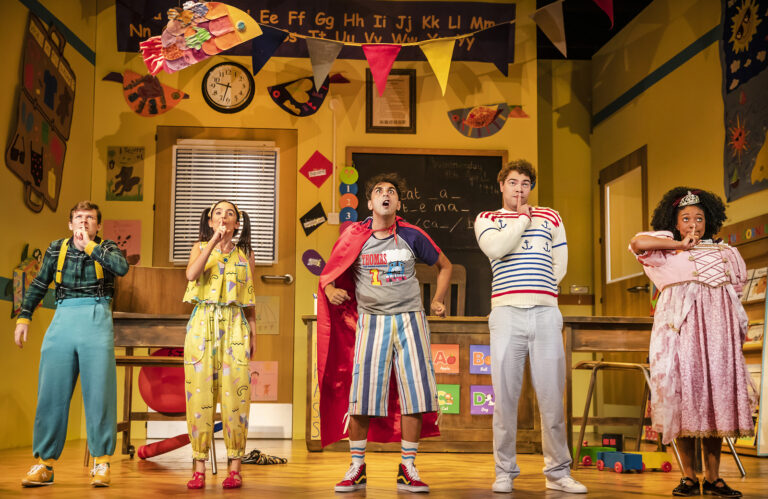 Mischief's second visit to Nottingham this year with their comedy offering of Groan Ups. The story Is less slap stick then their show in September, The Play That Goes Wrong, and looks to explore some interesting ideas,  loosely based on the Aristotelian idea "Give me the child until seven and I'll show you the adult (man)"; or alternatively do we chose who we become? The play premiered in the West End in September 2019. It is written by Henry Lewis, Jonathan Sayer and Henry Shields and directed by Kirsty Patrick Ward.
The play is really one of two halves, opening with the children in year two recounting, to the unseen teacher, what I did at the weekend; followed by the unruly teenagers in year nine  negotiating friendships, exams and hormones and the second half at a school reunion several years later.
The first half is a little more frantic and slap stick; the second half more thoughtful and reflective.
The play is set in the classroom all bright colours and artwork which changes over the years and helps to reflect the children growing up . The oversized chairs and tables at the beginning are morphed into tiny chairs at the reunion, to good effect. The set is designed by Fly Davis and the costumes are by Roberto Surace.
The cast is a slim seven actors,some taking on two roles for the smaller parts. Archie (Daniel Abbott), Moon (Yolanda Ovide), Spencer (Paul Brown), Katie (Holly Sumpton), Simon (Matt Cavendish), Paul /Mr White (Killian Macardle) and the glorious Chemise/Miss Murray (Jamie Burkett), all acquitted themselves well and were all enthusiastic and engaging.
It's was an enjoyable evening although it lacked any real laugh out loud moments and the children's journey to adulthood was sadly a little predictable, once a hamster slayer always a hamster slayer!