Festival Theatre, Edinburgh – until 2 October 2021
 Reviewed by Rachel Farrier 
3***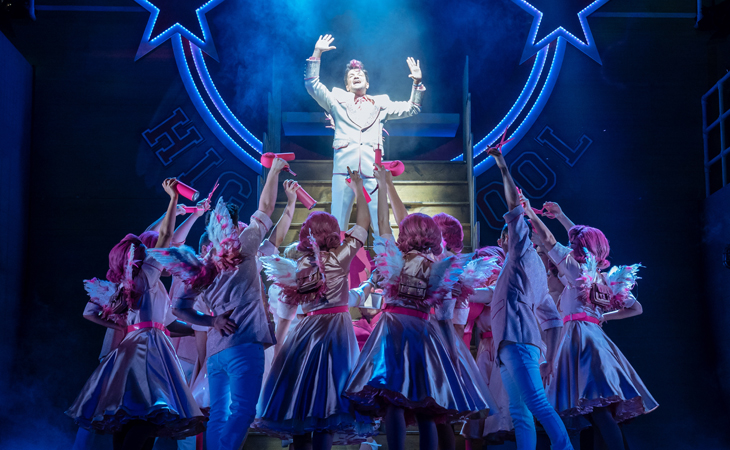 There can't be many people who haven't seen Grease (at least the film version) before, so there was a palpable sense of anticipation and excitement in the audience well before curtain up – we've all been stuck at home for so long, the audience were clearly all set for a fun night out.  
This production of Grease didn't try to push any boundaries or try anything new, but it delivered a classic performance with some exceptional all-cast numbers, especially 'Born to Hand Jive Baby' and 'We Go Together' which both had some outstanding choreography – also witnessed in 'Greased Lightning'. There were three understudies playing main parts – including Ellie Kingdon as Sandy, and this may explain why some of the dialogue sections felt somewhat uncertain and stilted, however it felt like the whole cast warmed up as the evening went by. Inez Bud's brilliant rendition of Marty's 'Freddy My Love' seemed to get the show properly underway and Ellie Kingdon put in a confident and accomplished performance as Sandy. Both she and Dan Partridge as Danny Zuko had exceptional voices – 'Hopelessly Devoted to You' was a stand out number. Jacob Fisher (and his hips!) as Vince Fontaine/Teen Angel completely stole the show when he was on stage, and the audience went wild for him.  
It seemed that the audience were willing to forgive and forget any imperfections in favour of lapping up the fun and energy provided by an evening full of familiar songs and jokes, and by the end most of the audience were on their feet singing along with the medley.
Having not seen Grease for some years and introducing my 12 year old daughter to it at this performance, I couldn't help but note that it really is a musical of the era in which it was both set and written – the unreconstructed masculinity (e.g. the boys constantly making lewd comments about the girls bodies) felt pretty uncomfortable and, as my daughter said, it now seems ridiculous that the pivotal plot point is a girl having to completely change how she looks to get an already disrespectful boy to actually pay her attention.. 
If you could put that aside, this was a fun night out with plenty of impressive whole cast numbers to satisfy an audience who have been deprived of the excitement and rush of musicals over lockdown.