Yvonne Arnaud, Guildford – until 12 November 2022
Reviewed by Heather Chalkley
4****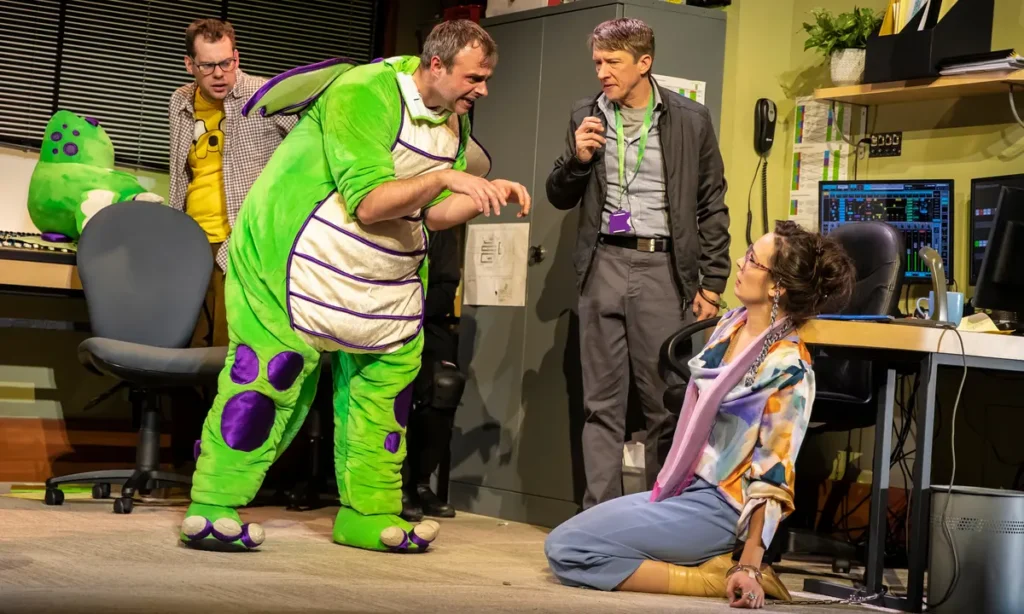 Mischief have done it again, bringing their unique blend of humour and jeopardy, created through a play within a play. Written by Henry Shields early last year, he has tapped into the rich comedic material that is children's television gone wrong. Shields captures the on-set environment, where no one really knows the whole picture and rely totally on the gallery to bring it all together. You will not see anything else quite like it!
Each character has their own hilarious role in building the tension for the final scenes and creating laugh out loud moments throughout. Tom Walker manages to take Andy from a complete unfeeling, despot director to a quivering, pleading heap, begging for his life. Chris Leask (Toby) evokes synchronised sympathy and chortles, through this ordinary bloke that is trying to be an actor, easily influenced by the stronger characters. Sean (Harry Kershaw) is the writing talent behind the children's programme and is definitely a bit off the wall with his fruit filled thinking. Kershaw adds a different level of humour with a distinctly autistic feel to his character. The wannabe classical actor David, portrayed by Gareth Tempest, looked fabulous in his king lemon head, booming out his lines. The physical performance of Greg Tannahill (Kevin) needed no words to induce belly laughs from the audience.
As usual, the creative team work their magic with the supporting cast to make the staging hiccups and players slips, trips and falls look easy and so very funny. This play is pure escapism that provides a better than average storyline to this fresh and modern comedy.