York Theatre Royal – until 2nd April 2022
Reviewed by Ellie Watson
4****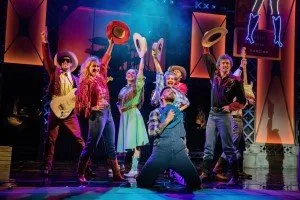 Imagine living in a town where it is illegal to dance! How awful would that be? Well, that is what the musical Footloose is about. Based on the 1984 film starring Kevin Bacon, Footloose tells the story of Ren McCormack who forced to relocate from the lively city of Chicago with his mother, Ethel, after Ren's father left them. Ren loves all things dance and rock 'n' roll but when he arrives to the town of Bomont he is shocked to discover dancing is banned. This is due to a previous accident that occurred in the town, involving Reverend Shaw Moore's son. With the help of Willard Hewitt, Ren's best friend and a classic southern American country boy, and the reverend's rebellious daughter Ariel, with whom he starts a romantic relationship with, Ren is determined to overturn the law so that the senior year can hold a dance and bring back dancing to Bomont once and for all.
Generally, musicals usually display the idea of the triple threat portraying strong acting, dancing, and singing skills but Footloose took this to a new level and added a fourth threat, one which I personally have never experienced before. All the actors would be playing their own instruments! The orchestra of the production was made up from the cast with them playing multiple instruments on stage including, clarinets, saxophones, flutes, guitars, bass, and piano. However, the talent did not stop there! They were not just stood playing their instruments but often dancing simultaneously and even at one point jumping over a skipping rope as well!!! How impressive! This did not affect their vocals either, with most having impeccable vocal technique showing the high standard of the performance.
The standout performance to me was Ariel, played by the recent graduate of Mountview, Lucy Munden. Her portrayal of Ariel was stunning, and it was hard to believe this was her professional debut. Her voice had such a lovely tone and her belting skills throughout 'Holding Out for A Hero' showed exceptional technique.
Ren, played by Josh Hawkins, also outstanding performance with his amazing dancing and singing skills. Thoroughly enjoyed watching his performance. When Hawkins and Munden sang their duet together, their voices worked so well together and was lovely to hear.
Reverend Shaw Moore, played by Darren Day, was also a fantastic performance, with flawless vocal technique. However, the more upbeat songs were personally more enjoyable to me.
I also really enjoyed Jake Quickenden's performance of Willard, very funny and good vocals. I always have been a fan of Jake's as I watched him on X Factor, I'm a Celeb and voted for him every week in Dancing on Ice. Very much enjoyed watching his performance in Musical Theatre as a huge theatre fan. Also really enjoyed his section in 'Holding Out for a Hero' when Ariel and Dusty rip off his dungarees to reveal his gold boxers.
Jess Barker also really stood out for me with her amazing acting. Just fun to watch and had such musical talent. Having said this, everyone in the cast were amazing and stood out for different reasons.
The set for the production was also amazing, with smooth and creative transitions. It was fairly simple with what they had, but it was clear to see how well thought out the design was, especially when shower cubicles were then turned around and revealed a steering wheel, before changing again to depict a car. Very imaginative.
I must say this is a really good production. It is slightly slow at the start and Act One seems to drag slightly but overall is enjoyable. Would 100% recommend seeing this production if you can. The curtain call is very engaging and encourages audience participation making it a fun night for everyone. Everyone was standing, dancing, and having fun at the end which made it the perfect end to the day.
Very enjoyable night. Bomont was dancing again and so was the whole of York Theatre Royal.