Park Theatre – until 6 November 2021
4****
Reviewed by Claire Roderick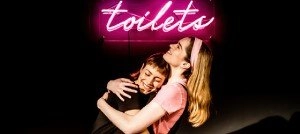 Part of Park Theatre's Say it, Women double bill, Theatre Unlocked's production of Flushed is a celebration of sisterhood. In a variety of toilets – clubs, bars, restaurants and their own flat – sisters Marnie (Elizabeth Hammerton) and Jen (Iona Champain) chat, bicker and fight.
The set – two toilets and a pink neon sign – is simple, but the issues the sisters must deal with are not. At first everything is light and fluffy – the perils of double dating, and typical kid sister wheedling to get her way. Jen's drinking, smoking and partying doesn't appeal to Marnie, and she is always telling her younger sister to grow up and get a proper job – she's a teacher and Jen is an actor. Jen always has a quick one-liner and hides behind humour while Marnie is more direct on the surface, but a self-diagnosis of Herpes from Jen leads to Marnie revealing that she thinks she is pregnant. When tests are negative, Marnie reveals that she hasn't had a period for over a year and finally seeks medical advice. The diagnosis of Premature Ovarian Insufficiency is devastating for Marnie as she has always dreamed of being a mother.
This news makes Jen step up and show her responsible, empathetic side – even if she drops a few clangers in the process, with the depth and honesty of their relationship shining through. Writer and director Catherine Cranfield gives the sisters some cutting lines, but the love between them is always there. The talented actors ensure the sisters are funny and likeable, with their more tender, vulnerable moments as believable as the petty spats.
The pace is a little uneven, switching from comedy to tragedy with the scenes following Marnie's diagnosis stiller and more thoughtful before a lighter, hopeful ending. This may jar for some, but it is consistent with the emotional journey of the pair.
A funny, honest story of the bond between sisters, Flushed is an hour well spent.