Southwark Playhouse – until 16 July 2022
Reviewed by Claire Roderick
4****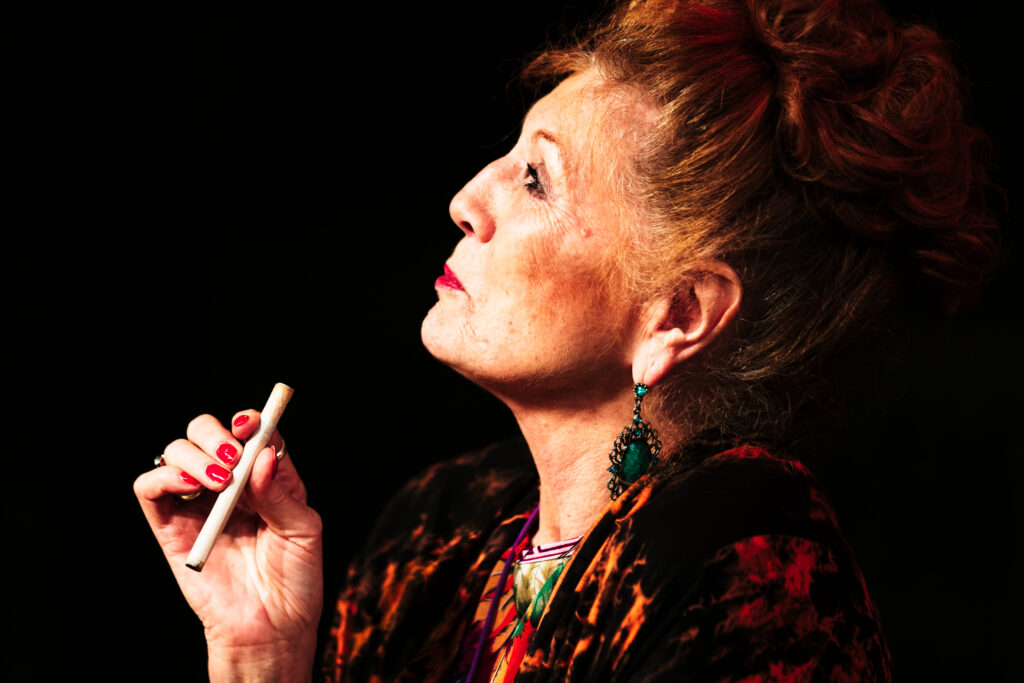 Tom Ratcliffe's play about social media hysteria and mob justice is intriguing and disconcerting. Set in the sleepy seaside town of Walton-on-the-Naze, where rumours start that a woman involved in the murder of a child has set up home under a new identity.
The details of Evelyn's crime are described by Punch, Judy and Crocodile, making the cruelty and violence cartoonish and surreal, and encouraging loud reactions from the audience. The characters appear throughout the play to muddy further the assumptions made from the story so far and representing the online pile on of hate and disgust frenetically and animalistically.
Sandra (Nicola Harrison) arrives in Walton thinking she will be renting a flat but finds out that she is renting a room in a flat in a retirement village. Jeanne (Rula Lenska) is desperate for company as she and her daughter are estranged, and convinces Sandra to stay with her, telling everybody that Sandra is her goddaughter. Sandra goes along with this and seems to be gaslighting Jeanne at first, but soon the two become close. What happens each day is unclear as Jeanne is suffering with Dementia and Sandra lies effortlessly to entertain Jeanne.
Jeanne's nurse, Laura (Yvette Boakye), is immediately suspicious of Sandra and is unhappy when Jeanne sets her brother Kevin (Offue Okegbe) with Sandra. As the couple's relationship develops, the Spotted in Walton Facebook page slowly transforms from petty complaints about dog mess to panic about Evelyn settling there. Soon addresses of women that they think could be Evelyn are posted online and paranoia overruns the town.
As Sandra and Jeanne's lies unravel, suspicion soon falls on Sandra and her mysterious past, and Kevin must choose a side.
Lenska is worth the ticket price alone as Jeanne, soulful, wise, and determined to enjoy her life even as her dementia takes hold. Her final scene with Sandra is heart wrenching as you realise that a lot of the affection she showed Sandra might have been mistaken as she calls her by her daughter's name. Harrison's reactions in this pivotal scene are exquisite, and she does a wonderful job keeping Sandra slightly "wrong" as she goes about her new life in Walton – defensive and wary with the body language of someone always ready to run.
Ratcliffe's writing twists and turns, leaving you guessing and questioning what is real – both facts and feelings. The characters are all frustrating and antagonistic, but the reasons behind this are all teased out. Director Madelaine Moore alters the rhythm of the play without warning, keeping the audience on edge and unsure what will happen next, with the atmosphere becoming increasingly unsettling as Rachel Sampley's lighting and video design gets darker and Michael Crean's wholesome seaside music becomes more jarring and off kilter.
Evelyn is not an easy watch but is a story that needs to be told, and this memorable production is well worth a look.