Southampton Mayflower – until 19 November 2022
Reviewed by Lucy Hitchcock
3***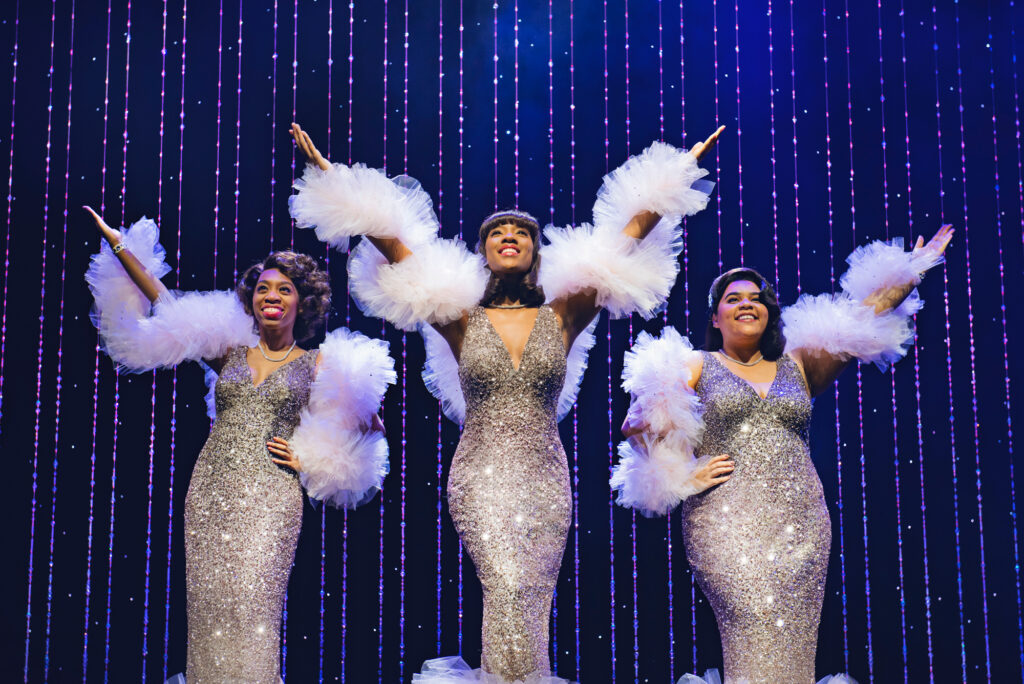 Written by Tom Eyen with music from Henry Kreiger, Dreamgirls hits the Mayflower on its UK Tour. 
The swinging 60's hits the stage and fills the auditorium with a crowd pleasing; multi award winning and sequin studded performance! The sparkling tale of the rise of the Dreamgirls-formally known as the 'Dreamettes' is told, following Effie (Nicole Raquel Dennis) Lorrell (Paige Peddie) and Deena (Natalie Kassange) as they battle to make it into showbiz. With the help of their manager, they get their big break, but ultimately, showbiz takes over and we see the fractures in their friendships. Resulting in a wonderful resolution, the display of defiance, energy and self belief is evident-with a smattering of love!
The stand out song was Dennis' rendition of 'And I am telling you I'm not going', ending the first act. This heavily emotive performance rang through the theatre. They deserved the standing ovation that was displayed from the audience! However, as this song closes Act 1 and was met with a standing ovation, it was hard for the cast to move forward from there and Act 2 seemed slightly flat in comparison to the spectacular we had heard beforehand. Natalie Kassanga and Paige Peddie as Lorrell and Deena were pleasant and it was nice to have the focus on them for quite a bit of the show too, with their own solos and performances. 
For me, the stand out performance of the night goes to Brandon Lee Sears as 'Jimmy Early' an established singer who seems to use his wit and charm to get where he is in life. Sears was funny and so different from any of the other characters and at one point, encouraged the audience to clap and dance along when he sang. He gave an air of James Brown and really entertained the audience.
The costume and lighting also deserves a congratulation for the sheer number of sequins on stage, quick changes and lighting to cover every inch of the stage. There was one quick change which was met with rapturous applause and it truly deserved it!
Whilst the cast seemed to hit the ground with so much energy and excitement, it was hard to top scene by scene and left me feeling like I wanted more. The songs also became very repetitive and felt as though I was almost waiting for a section of dialogue (this is not to detract from the performances of the cast-they were fabulous!).
If you like sequins and sparkles mixed with the swinging 60's and powerful songs-this is your show!!