Theatre Royal, York – 13 October 2022
Reviewed by Katie Brewerton 
3***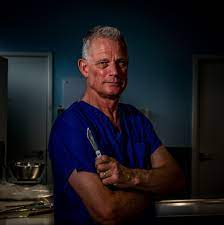 Forensic pathologist Doctor Richard Shepherd has performed 23,000 autopsy's and has worked on many high profile cases and mass disasters including 9/11 and the 2002 bombings in Bali. With a career spanning more than 40 years he has written 3 books detailing his work and the most interesting and strange cases he's worked on all of which have received rave reviews. For his latest book 'Unnatural Causes' he has also created a stage show. 
Unnatural Causes show us how important the evidence provided by forensic pathologists is. Having been called to the witness stand so many times through his career the evidence he provides has the power to determine whether someone is guilty or not.
'Unnatural Causes' focuses on one of these cases, the case of Jimmy and Anita, Doctor Shepherd, must examine the body of Jimmy after he is found stabbed in his own home. We learn how he would conduct his autopsy, what the clues point to and learn how the evidence was presented in court. Doctor Shepherd shares the outcome of the case only after we get the opportunity to act as the jury and cast our vote on one of the three possible causes of death. 
There is also a short question and answer session in the second half so you have the opportunity to write a question for Doctor Shepherd to answer.
At the end of the show, I felt the general consensus in the audience was similar to my feelings of 'that wasn't what I expected'. Although interesting, it would have been great to hear more about the cases Doctor Shepherd has worked on rather than focusing just on one case and hearing a lot about how he got to where he is now in his career. The section on mass disasters was fascinating and it would have been very interesting to hear more about his experiences in that area. It was also a shame that when asked about his most interesting cases during the question-and-answer session he didn't have the time to go in to detail about them.
One thing to note is that it over ran by around 25 minutes so the 2 hours 20 minute show became 2 hours 45 minutes meaning it did feel a little long.