Theatre Royal, Windsor – until 27 August 2022
Reviewed by Joanna Huggett
5*****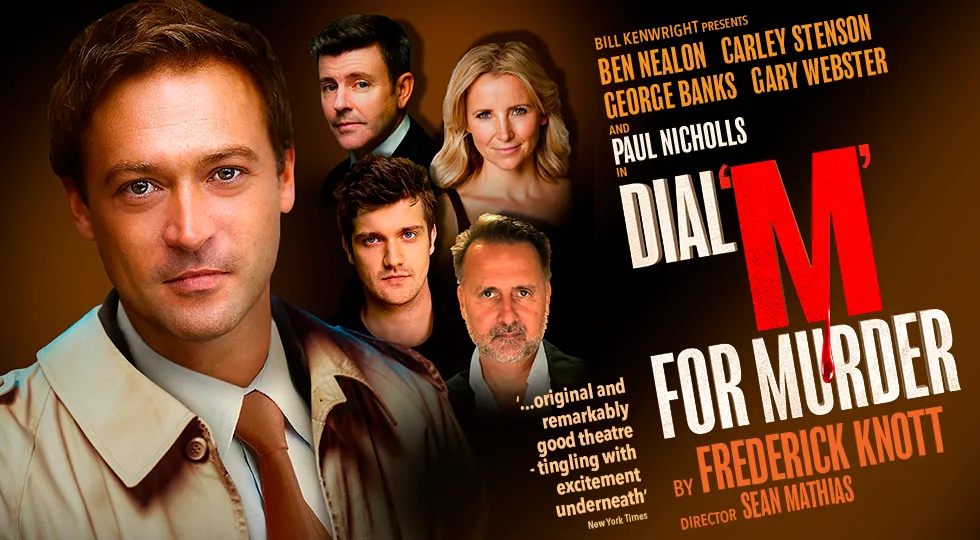 We were fortunate to go see the opening night of the Windsor summer season of shows beginning with 'Dial M for Murder', the play written by Frederick Knott. What a thoroughly enjoyable experience from start to finish. The opening scene beginning in a starkly dressed Maida Vale flat from which we never left, some haunting background noise setting the dark tone, and the entertainment left entirely to the fantastic actors who created the atmosphere and told the story admirably. Like a book we can't put down, we are still discussing the story even today.
It begins with Margot and Max, played by Carley Stenson and George Banks who seemed to have a secret thing for each other, which it turned out was just their exemplary acting as part of the story. The story is interrupted by Tony, played by Ben Nealon, a boundless extravagance of a man with no shame or guilt, and yet strangely very likeable, who begins the twists and turns of the story and sets about plan for a murder. Cue Captain Lesgate, played by Gary Webster, a man who's never been too far from the wrong side of the law and would gladly oblige Tony for the right amount of money.
And here the story twists, again and again, right through the second act when we are introduced to our 'could-be hero', the flat footed Detective Inspector Hubbard, played by Paul Nicholls with his calm but irritating manner and subtle diversions introducing yet more twists to the story – but hey it's a murder mystery play, and in that it sticks to the genre admirably.
All in all, some extraordinary acting, and a wonderfully twisting story made this a thoroughly enjoyable evening in Windsor. We might even go back for seconds, but the show finishes on 27th August, so we have to hurry.