Festival Theatre, Malvern – until 26th November 2022
Reviewed by Courie Amado Juneau
4.5****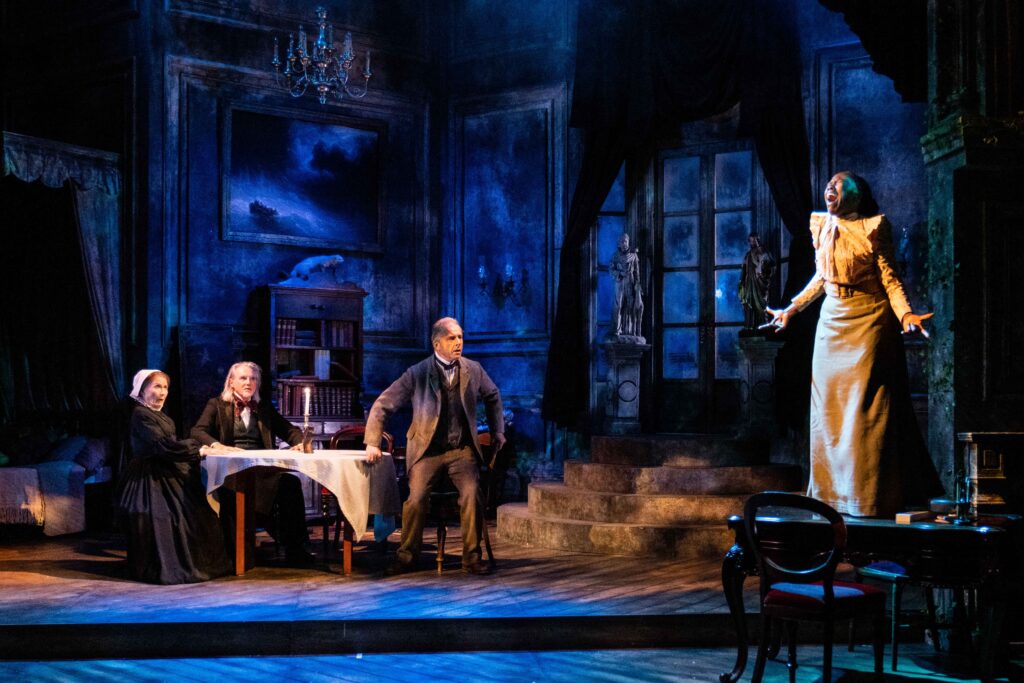 Christmas is looming, so how fitting to indulge in a Gothic ghost story. And from the pen of writer Michael Punter we have one set at Christmas too!
Even before the actors appeared, the sound of lapping waves and wind were setting the scene. With a sumptuous set, from Set and Costume Designer Philip Witcomb, dripping with menace from every corner and gorgeous costumes, the full effect was to transport us straight into 1876.
All the cast had their moments to shine through some very interesting character studies. Each brings there share of mystery and much baggage. The play is a roller coaster of emotions from light to dark, mirth through terror. The trouble (for this reviewer) is that it is difficult to actually highlight any scenes the actors stood out in without providing unintentional spoilers. And they did stand out; it is a sensational cast. But in general terms it was amazing to see a couple of genuine Hollywood and television legends sharing the stage with a couple of the younger generation brimming over with talent in abundance.
Maxwell Caulfield gave us Professor Gabriel Stokes, embodying the gravitas such a character deserves and yet with a vulnerability within his loss that was perfectly pitched for the era. Juliet Mills was a pure joy as Mrs Hinchcliffe with a lovely restrained air, befitting her character, bubbling over into emotion only when fearful or offended. Both shone like the stars they have always been.
Chipo Kureya (playing Florence Kennedy) was a revelation, especially towards the climax of the play where her acting was simply thrilling. She is a talent to watch for the future in what will undoubtedly be an illustrious career. Last, but certainly not least, was Will Beynon as Dr Beauregard, who produced a stunning performance of great emotional range; made even more impressive given that he is the tour's understudy. Another actor with a bright future. Much was done with suggestion and brief glimpses caught in the shadows. Was it my imagination or was that picture shifting? Or was it just a trick of the very inventive lighting from Lighting Designer Nick Richings, truly enhancing the action and atmosphere.
I really enjoyed the way the acting was somewhat underplayed, letting us use our imagination, creating a satisfying crescendo to the final climactic scenes which positively bristled with excitement. The sound effects provided by Dominic Bilkey and special effects (I'm guessing from Illusion Consultant – a fantastic job title if ever I heard one! – Darren Lang) gave us some heart in mouth moments too, propelling the action along nicely. If you were to ask me to sum up this work in one word I would say "jumpy" and we loved every leap from our seat.
An intriguing story, some life affirming scares to get the heart racing, a genuinely starry cast of established and new talent all wrapped up in Hollywood grade packaging. A thoroughly enjoyable night out at the theatre which I recommend heartily to everyone.