Leicester Square Theatre – touring until 4 December 2022
Reviewed by Claire Roderick
4****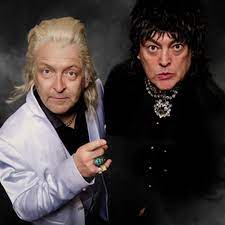 With egos even bigger than their hair, Clinton Baptiste and Ramone Tamine take their paranormal show around the country to share their gifts with the unsuspecting public in their hilarious, unashamedly old-school comedy show.
Clinton Baptiste – "the notorious clairvoyant medium psychic" – is a character that will have you giggling before he opens his mouth – and when he does…
Alex Lowe's creation is an amalgam of flamboyant psychics and club performers that is both monstrous and pitiful – a goldmine for laugh out loud moments, with a beautifully judged vocal tick. Baptiste's nemesis, Ramone (Lewis Macleod) is the perfect foil – brasher and earthier, but just as desperate for recognition. The presence of the tour sponsors, the McBains, in the audience sees the two competing for the chance to dazzle with their charisma to become the face of McBains Boilers. Their readings and channelling for the audience soon turn into bickering and bitching as they try to upstage each other.
The pairs' faux spiritualism, peppered with mantras like namaste…shalamah…shakattack, is guaranteed to get laughs, and their interactions with the audience are cutting but never cruel as they pass the spirits' messages on. The nonsense is non-stop, with changes of pace and a sub-plot about their support act that develops nicely into the chaotic ending.
Clinton Baptiste Vs Ramone hits all the right notes for a night full of laughs, the show is charmingly OTT, cheesy with a wonderfully anarchic streak that will make you cringe. As one woman said in the loos after the show: "I don't know what the hell I have just seen, but it was bloody funny". Tour details available at https://www.clintonbaptiste.com/live