Bread & Roses Theatre – until 9 November 2022
Reviewed by Claire Roderick
3***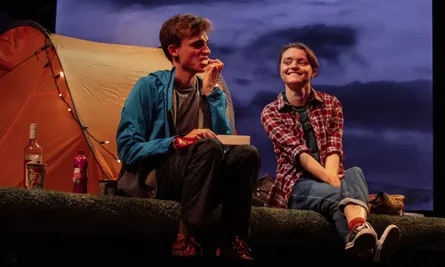 Shot In The Dark Theatre's debut production of Tamsin Rees's Cheer Up Slug is funny and thought-provoking. This exploration of friendship and adolescence begins as a quirky comedy but slowly becomes darker and more serious.
Bean and Will, neighbours and friends since early childhood, are on their Duke of Edinburgh Bronze Award practice expedition. Bean's boyfriend and Will's best friend, Dean, hasn't turned up yet, and Will is getting stressed. While Bean is happy draping fairy lights on the tent and has bought Hobnobs and golden syrup as provisions for their overnight camp, Will is following every rule and is horrified by Bean's laid back attitude. He isn't here to have fun, this is vital for his university admission. As it becomes obvious that Dean isn't coming, the pair play some of the DofE suggested bonding games, chat and muck about. Their recollections of childhood incidents differ wildly, with Will's versions always showing him in a good light "helping" Bean. Rees could have simply written about the impact of growth and change on friendships that should be left behind, but adds another layer of sexual tension.
When Bean explains why Dean isn't going to turn up, things get serious, with Charis Murray delivering her heart breaking and almost matter of fact account with a devasting emotional punch. Will's reaction to the news has been foreshadowed in the scenes recalling their childhood, but this doesn't lower the impact of his actions. His responses to Bean's rejection ensure that this cannot simply be dismissed as a misjudged attempt to kiss, and Bean finally realises that their bond is not what it once was. Whether Will is echoing the attitudes and actions of the boys around him because he is neurodiverse, or insecure and trying to fit in, or projecting and enacting things seen on social media, or even his father's attitudes (discussion of the breakup of his parents' marriage is strictly off limits) is up for debate. The variety of options to explain Will's behaviour is terrifying in itself, and lays bare the mixed and toxic images and messages about sexual relationships that children are exposed to. There are some effective moments, but Rees's script tries to do too much at times, with lots of throw away lines that could be further developed in a slightly longer running time or cut in this production.
Hannah McLeod directs skilfully, allowing the first half to amble around seemingly aimlessly as the teenagers kill time. Charis Murray's Bean is sweet and innocent, seeing the joy in simple things. This is seen as a weakness by Will, but Murray lets Bean's quiet fury simmer as she sees Will's true colours. Jamie Patterson is endearingly geeky and awkward as Will, with subtle flashes of his cruel and judgemental nature becoming more frequent and obvious as the plot develops. The actors have wonderful chemistry and lift the material with their infectious energy.
This is a fine debut – the future looks bright for Shot In The Dark Theatre.