Birmingham Repertory Theatre- until 14th August 2022
Reviewed by Emma Millward 
4****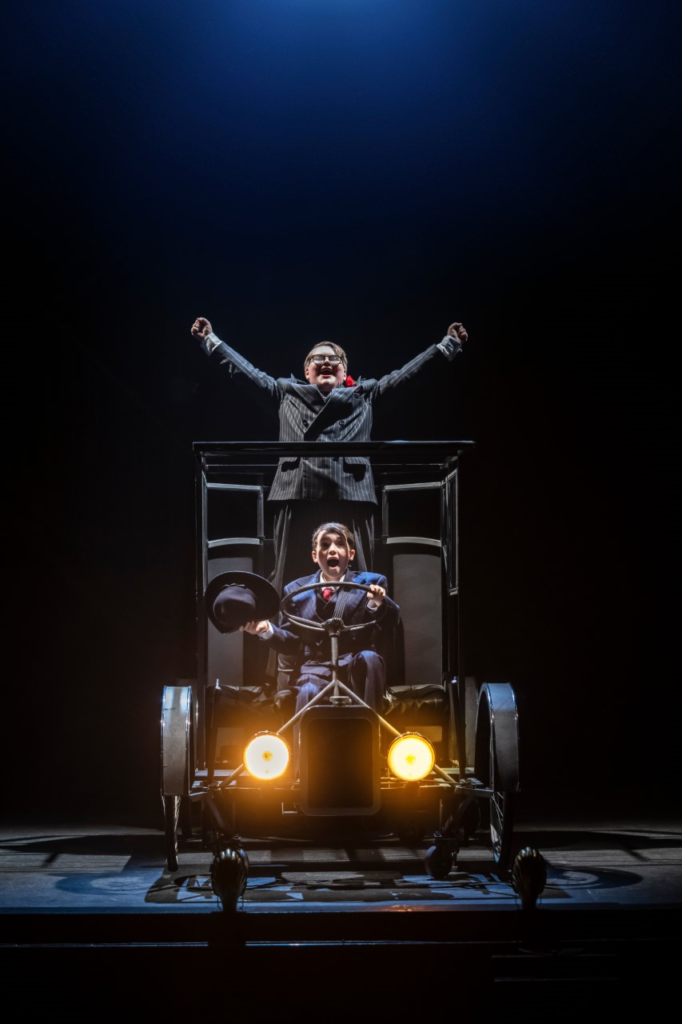 As we arrived at The Rep on a busy Friday evening, we were greeted by the new addition to Centenary Square, as the giant mechanical bull used in the opening ceremony of the Commonwealth Games has taken up residence there for the next week for anybody who wants to see it while attending the show.
Set in Prohibition era 1920s and based on Alan Parker's 1976 musical film, the show tells the story of Bugsy Malone (Gabriel Payne), a struggling boxing promoter caught up in a power struggle between rival gang leaders Fat Sam (Albie Snelson) and Dandy Dan (Desmond Cole). A lot of the action takes place at Fat Sam's Grand Slam Speakeasy, an illegal drinking place. The set for the 'Speakeasy' with its bar, bright lights and drinks bottles was cleverly designed to disappear back into the wall when it needed to be hidden away. The Rep itself definitely makes for a fitting setting for Bugsy. Although it has tiered seating, it somehow still feels like it has an intimate feel about it, that definitely suits the 'speakeasy' setting of the musical. 
In the midst of all this warfare, Bugsy meets Blousey (Mia Lakha) an aspiring singer who wants to audition for Fat Sam. Bugsy falls for her immediately. Although he has to contend with Tallulah (Jasmine Sakyiama), Fat Sam's girlfriend and singer who flirts shamelessly with Bugsy, much to Blousey's disgust. Although the show is packed with show-stopping songs, one of the most well known is 'My Name is Tallulah', which Jasmine Sakyiama sang beautifully with just the right amount of sass and razzmatazz for this famous character. 
As in the original movie, the show uses Splurge Guns and pink 'Angel Delight'- looking pies as weapons. This makes for many family friendly and hilarious shootouts between the rival gangs. The fact that most of the characters say "Oh Man!!" after they had been splurged definitely kept the audience amused. The added touch of Fizzy (Aidan Oti) continually mopping up where the cream and water pistols had been fired amused me more than it probably should.
The cast were all outstanding and you could easily forget just how young some of the actors are, as they all really immersed themselves in their adult roles. Although I feel a special mention should go to Gabriel Payne and Albie Snelson as Bugsy and Fat Sam respectively, who both really shone in their roles. The ensemble's timing was impeccable during both the dancing and fighting sequences. This is especially evident during the song 'So You Wanna Be A Boxer', where their ducking and diving was sleek and perfectly coordinated with each other as Leroy (Mohamed Bangura) is introduced to the world of Boxing. 
All in all, it was a brilliant production of a classic film. The standing ovation and numerous ear-piercing cheers for each character/actor at the end proved this. If you are looking for a feel good, toe-tapping distraction from daily life, you should definitely go and 'splurge' on some tickets today!!
* please note that the main character cast rotate in this show. Meaning you may not see the performers reviewed here in those roles.