Aylesbury Waterside Theatre – until 19 November 2022
Reviewed by Julia Spargo
4****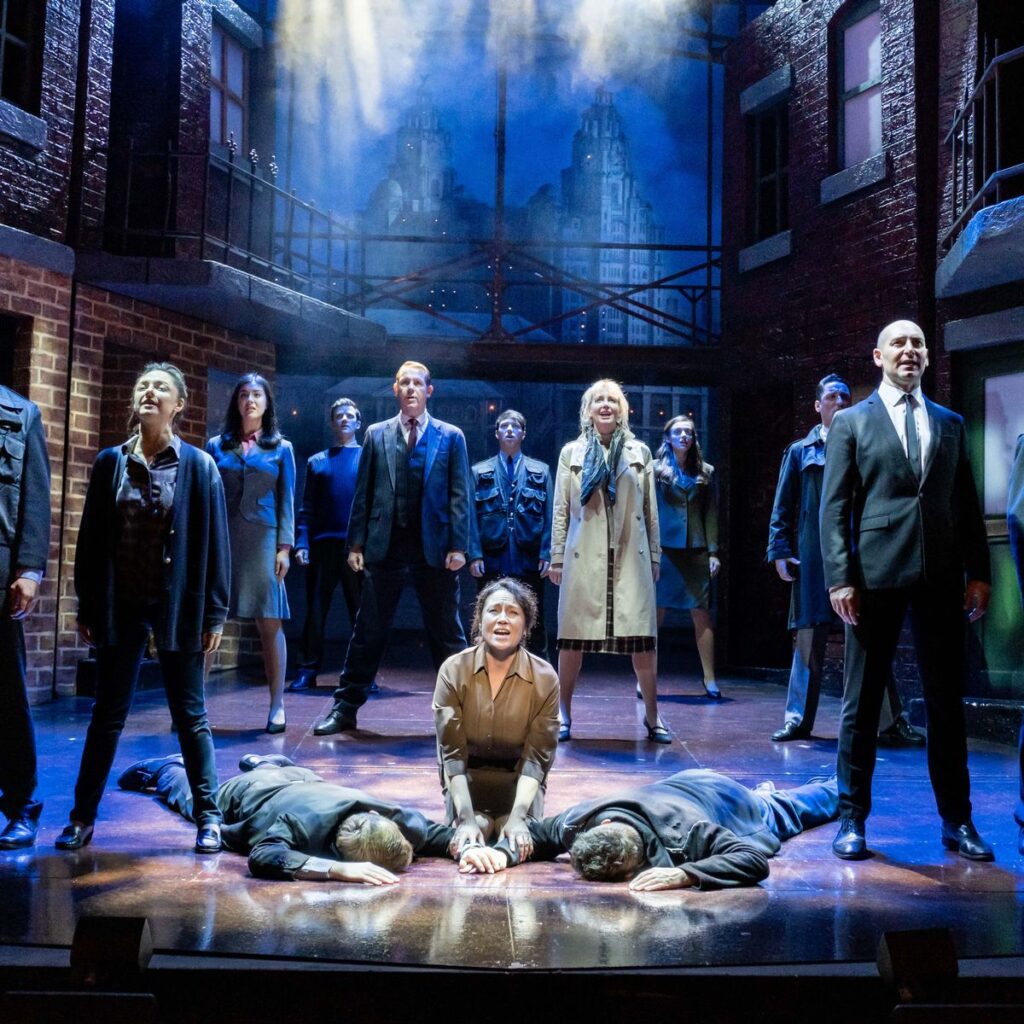 Willy Russell's Blood Brothers brings alive the streets of Liverpool through the 1950s to the 1970s, with the backdrop of poverty, privilege, unemployment and crime. Forced into an impossible situation by financial hardship and debt, young mother-of-seven Mrs Johnstone gives one of her newborn twin boys to her wealthy employer, Mrs Lyons, who is desperate for a child. The boys grow up geographically close, but at opposite ends of the socio-economic spectrum, becoming unlikely friends but unaware of their relationship to each other.
The climax of the brothers' story is shown in the first scene, before rewinding some twenty-odd years, revealing how the tragedy of the brothers Mickey and Eddie unfolds. The ever-present character of the Narrator navigates the audience through their lives with constant reminders of their ultimate fate.
Many of the cast of this tour are returning to the musical after having been in its West End production, and it shows. Niki Colwell-Evans is exceptional as Mrs Johnstone and is, along with Richard Munday as Narrator, one of few cast members able to compete with the orchestra, whose sheer volume overpowers some of the other characters.
Sean Jones and Jay Worley give very convincing performances of Mickey and Eddie respectively, and their portrayals of the twin brothers as children give the musical many light and humorous moments. The show is held together well by different verses of the song Marilyn Monroe, giving the audience a continued sense of the wider time-frame and the development of the story.
The simple Liverpudlian background of the set and dim lighting increases the sense of tension surrounding Mrs Johnstone and her children, highlighting the claustrophobia of both their economic situation and inevitable fate of her children. The cast are used for any prop changes, meaning the pace of the show never drops and the audience is swept along with the story. The unanimous standing ovation at the end of the performance was well-deserved, and the time it took Niki Colwell-Evans to regain her composure after her incredible rendition of the final song Tell Me It's Not True showed just how much she is giving to every performance.
Highly recommended.