Newcastle Theatre Royal – until 21 August 2021 then on tour
5*****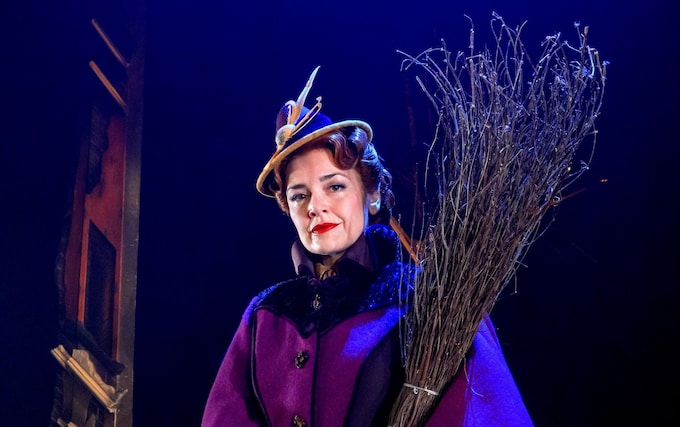 If Mary Poppins is Practically Perfect then Miss Eglantine Price is Bobbing Along Beautifully.
Fifty years after the film version of the Sherman Brothers classic hit the cinema's, Bedknobs and Broomsticks has finally hit the stage. With a book by Brian Hill and new songs and additional lyrics by Neil Bartram.
Marvellously magically, creatively choreographed and sensationally staged it was definitely worth the wait.
Dianne Pilkington leads the cast as Miss Eglantine Price an apprentice witch who takes in the orphaned Rawlins children – Charlie (Conor O'Hara), Carrie (Izabella Bucknell, Sapphire Hagon, Poppy Haughton and Evie Lightman sharing the role) and Paul (Dexter Barry, Haydn Court, Jasper Hawes, Aidan Oti). Pilkington shines, channeling her inner Dame Angela Landsbury whilst putting her own spell on it. Vocally fantastic, for me she was out standing during ballads, bringing a tear to the eye during "The Age of Not Believing".
Charles Brunton brings Emelius Browne – Professor, Magician, Trickster or Con Man, to life. And demonstrates some mighty fine 'dad dancing' in the Beautiful Briny Ballroom.
The visit to the Island of Nopeepo, in the 2nd act, introduces us to some excellent puppets designed by Kenneth Mcleod. King Leonidas, a Lion (Matthew Elliott Campbell), Angela a Bird (Emma Thornett), Sherman a Bear (Mark Anderson) and Norton the very northern fish voiced by Rob Madge all add an extra dimension of magic to the show. And there are cries of delight from young and old alike as they appear on stage.
Jamie Harrison's set designs and direction, Candice Edmunds co-direction, Chris Fisher's illusions, Gareth Fry's sound, Neil Bettles' choreography and movement, Simon Wilkinson's clever lighting and Gabriella Slade's faithful 1940's designed costumes – along with the outstanding performers and the live orchestra lead by Laura Bangay, all help to create possibly the most magical musical ever.
Catch it on tour – you won't be disappointed