The Alexandra Theatre Birmingham – until Saturday 5th November 2022
Reviewed by Nadia Dodd
5*****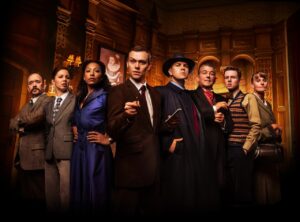 The Mousetrap opened in 1952 in the Ambassadors in London and, would have celebrated an unbroken 70-year West End run this year if it had not been for a global pandemic – seven decades of an amazing murder mystery which has become a must see show.
A gem of British classic theatre this tour produced by Adam Spiegel, has kept millions of people across the world asking themselves 'Who dunnit?'
The whole play has one set, I've never seen another play like this before. Based in Monkswell Manor Guest House a new business venture by the owners Mollie and Giles Ralston (Joelle Dyson and Laurence Pears) you see four pre-booked guests arriving for their stay. Plus an extra guest who has come across the establishment following his car overturning in the awful snow blizzard that is unfolding threatening the guess and the Ralstons to be cut off from the surrounding area and civilisation until a thaw sets in.
As a murder mystery I wasn't expecting the expert comedy timing from Christopher Wren (played by Elliot Clay) one of the pre-booked guests to the manor. His childlike and lovable character was a hit with the audience. All guests including the owners of the manor house become suspects after a murder takes place that evening.
Mrs Boyle, a woman who I don't think anyone could ever please (Gwyneth Strong), Major Metcalfe a retired gentleman (Todd Carty), Miss Casewell, very unconventional for the 1950's, lived many years abroad (Essie Barrow) and the unannounced Mr Paravicini (John Altman) are the other guests and murder suspects as the story unfolds.
The final person to enter the manor is Detective Sergeant Trotter (Joseph Reed) who accesses the manor on his skis due to the snow drifts, climbs in through a downstairs window and announces to everyone that they are in danger, one of them could be murdered tonight and also that one of them is the killer, but who?!
In the 70 years the story hasn't changed and its part of the agreement with the audience at the end of the show that we don't spill the beans and reveal 'Who Dunnit' to continue keeping such a gripping British theatre classic running for what could be forever. Clever, classic theatre at it's best.