Cambridge Arts Theatre, Cambridge – until Sat 2nd April 2022
Reviewed by Steph Lott
3***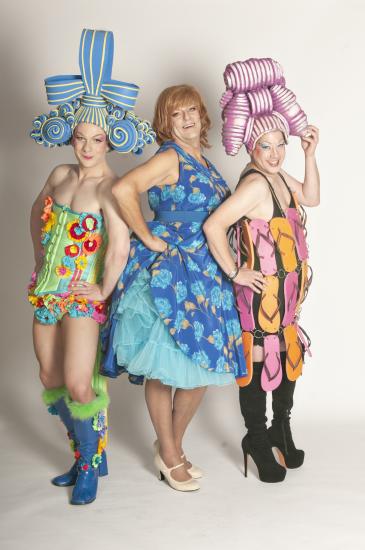 Having watched writer-director Stephan Elliott's pioneering LGBT gem Priscilla, Queen of the Desert many times, I was looking forward to an evening of glitz, high heels, lipstick and a fabulous toe tapping sound track. But what I was not expecting was dancing cupcakes, paintbrushes and a Telly Tubby! And ping pong balls. Quite a few of them.
This funny and smart road-trip comedy is about Mitzi Mitosis (Tick), played by Gareth Mullan, and Felicia Jollygoodfellow (Adam), played by Jacob Nightingale; they are a pair of cash -trapped drag queens who travel from Sydney to Alice Springs where Tick's estranged wife Marion (played by Anna Murgatroyd) has got them a gig. They are accompanied by Bernadette, a transgender woman and artiste, played by Jeremy Warbrick, who has just been widowed and needs a change. Along their way across Australia they encounter small-town bars, new friends and hostility as they battle against the odds to make it in time for their opening number in Alice Springs.
This exuberant and colourful production has been staged by the Cambridge Operatic Society. The society, established in 1910, enjoys taking on big musical and classical shows and have, for many years, performed at the Cambridge Arts Theatre using local talent and impressive sets, costume, design and direction.
From the minute the curtain rose you could feel the buzz in the audience who were ready and willing to be entertained. There was a riot of music and colour on the stage, with a live band. There were however a few hiccups in the early part of the show. It did seem at first that some of the cast members were suffering slightly from first-night nerves, were a bit hesitant and forgot to smile, but they gradually relaxed and eased into their roles as the show went on. Felicia had a few problems with her microphone (didn't seem to be picking up) but carried on regardless and it didn't affect her sterling performance.
The three leads – Jacob Nightingale (Adam/Felicia), Gareth Mullan (Tick/Mitzi) and Jeremy Warbrick (Bernadette) – did a warm, funny and very credible job in their respective roles. However Warbrick's performance as Bernadette stood out for me; a funny, tragic yet uplifting character who ends the show with the promise of happiness.
Mention must also be made of Sally Goldsmith's stand out portrayal of Cynthia and her performance of Pop Musik! I won't spoil it if you haven't seen it but it's definitely a showstopper!
There were some other parts that I particularly liked. The scene where Felicia deadnames Bernie was given the seriousness that such a thing deserves. The gravity of the offence and the pain it causes was very clear.
I also enjoyed the delivery of the scene where the bus is vandalised with a homophobic slur. The shock and again the pain of such matters was well conveyed and I found the culmination of that scene with True Colours very touching. However my absolute favourite scene was the Casino Floor-show Montage – very slick and funny. Loved it.
Congratulations are due for the ensemble. After they got over their initial nerves, they did a fantastic job of embracing the outrageous camp nature of the show with high energy all the way through, keeping movement and life in the various bustling bars visited by the drag queens and Bernie. David Mallabone's choreography was sleek and performed confidently by all. And as for the costumes and all the changes… Phoebe Chambers and her team of wardrobe assistants definitely had their work cut out! The costumes were glorious. A riot of colour and utterly outrageous.
The ultimate message of Priscilla is one of optimism and hope. The show contains some heavy themes but it tackles them with wit and humour. This show is definitely worth going to see. The audience who gave a standing ovation to delighted cast certainly thought so. So, sit back. Watch it. And have a good time!