Richmond Theatre – until 5th March 2022
Reviewed by Carly Burlinge  
4****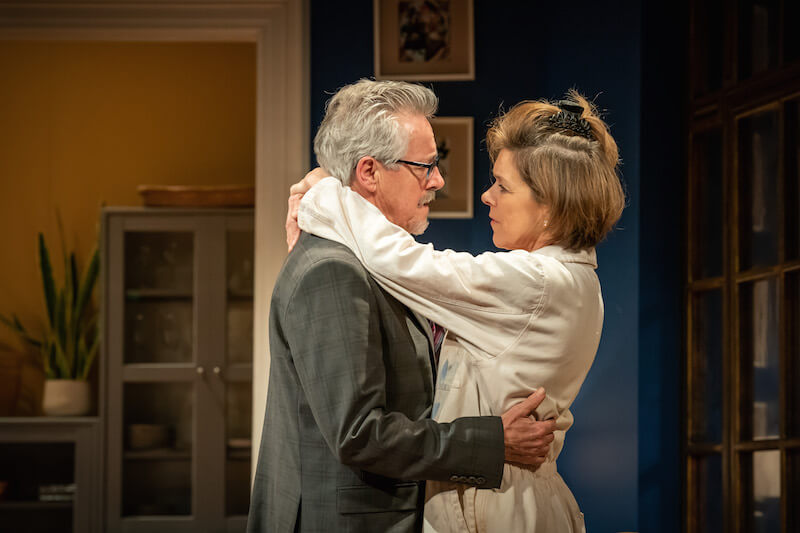 An Hour and a Half Late is a play by Gerald Sibleyras with Jean Dell adapted and directed by Belinda Lang. 
Peter (Griff Rhys Jones) is getting ready for a night out with his business partner for a celebratory dinner and is excited to be selling his half of their accountancy company which means big money. His wife Laura (Janie Dee) on the other hand decides that she's having a midlife crisis, she doesn't want to go out for dinner instead she wants to discuss their life together. This including the sadness of all three children leaving. What they've been through as a couple and what remains of their life ahead! Peter who's still eager to get out of the door realises that his wife Laura is being overdramatic and annoyed as she believes she has nothing to look forward to anymore. Peter decides to gives her five minutes to push dinner back to enable them to talk. He soon realises that five minutes is just not going to cut it. Laura's misery is brought to the surface of her suffering husband who's just about had enough! She reveals her annoyance that she has nothing left which only annoys Peter more. Together they embark on an evening of what ifs and what nots with Peter still wishing that she would have her meltdown another night. Soon he realises that he must take part and work through this journey together. Insults get thrown across the room along with truth, love and sentimental memories.
Griff Rhys Jones plays the part as Peter extremely well he loves his wife and wants an easy life his character has a great way of hiding behind his humour and turning everything into a joke making the audience laugh throughout the production.
Janie Dee Plays the part of Laura with a strong dramatic energy that was intense at times sailing through a midlife crisis on stage for all to watch. Together they show a strong chemistry that was kind and direct on stage which was enjoyable and fun to observe throughout.
A good watch giving the perception of real life to what many actually go through and how minds alter as our age escalates. Very entertaining, pleasant to watch and very amusing.