Newcastle Theatre Royal – until Sunday 9 January 2021
Reviewed by Jess Bramfitt
5*****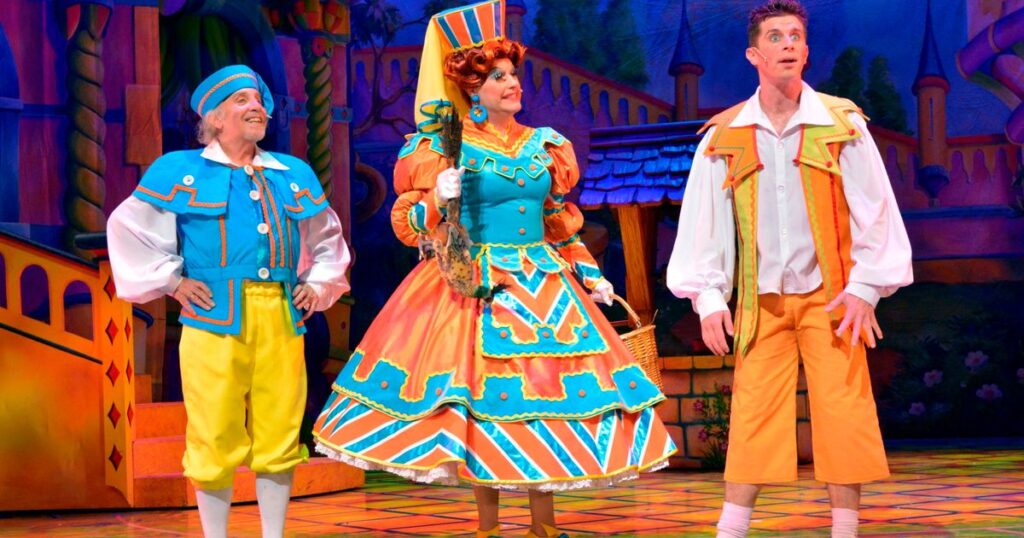 It's Panto time again and this year's spectacular at the Theatre Royal Newcastle is Snow White and the Seven Dwarves – a 5 star show.
Carrying on with the long tradition and pedigree of panto at the Royal, the latest offering is packed full of brilliant costumes, wonderful dancing and lots of silliness for both kids and adults alike. I took my niece Emilia (5) to what was only her 2nd panto ever so her anticipation was massive from the moment we walked into the auditorium. The atmosphere was of high excitement and wonder; flashing wands, spinning globes and lots of candy ensured the audience (especially the younger ones) were already flying high before the curtain rose.
Headlining is the stella Joe McElderry, local lad turned singing superstar who plays the Man in the Mirror. Part narrator, part stalwart to the evil queen, Joe brings some serious superstar quality to an already impressive cast.
Ever present for the Theatre Royal pantos are double act Danny Adams and Clive Webb – this time playing Danny the court jester and Odd Job, his father. You know whenever these two are on the bill you are guaranteed lots of laughs, plenty of silliness and no small amount of double entendres; there seemed to be as much aimed at the adults as there was the kids although many of the younger audience just laughed at the parents laughing, rather than the jokes themselves. Adams takes a great, twisted, delight in trying to get the other cast members to laugh and it is a great testament to their professionalism that they manage to stay on track.
For this production we have 2 'dames' – Steve Arnott playing the traditional Mrs Nelly Nightnurse complete with the usual over the top dame costumes, and Chris Hayward playing Queen Dragonella – the wicked element to the Snow White story.
The leading couple; Kirsty Ingram as Snow White and Wayne Smith as Prince William of Wallsend complete the traditional story parts save for the Magnificent Seven; Josh Bennet, Simeon Dyer, Scott English, Jamie John, Blake Lisle, Andrew Martin and Fergus Rattigan, and ensured there was time to breathe in-between the chaotic madness being served up by Messrs Adams and Webb.
How the production company, Crossroads Pantomimes and Michael Harrison manage to fit so much into this show is a feat of theatrical magic itself – there is EVERY element one could hope from a panto and so much more.
It was a cold night as we walked away from the theatre. Emilia (5) was tired but the excitement and adrenaline was still evident as she sang songs and recounted her favourite parts, still clutching her flashing wand. As she fell asleep in the car she leaned over and said, "Thank you, that was brilliant" – a perfect review of a perfect panto if ever there was one.