Hampstead Theatre – until 4 December 2021
Reviewed by Emily Cliff
3***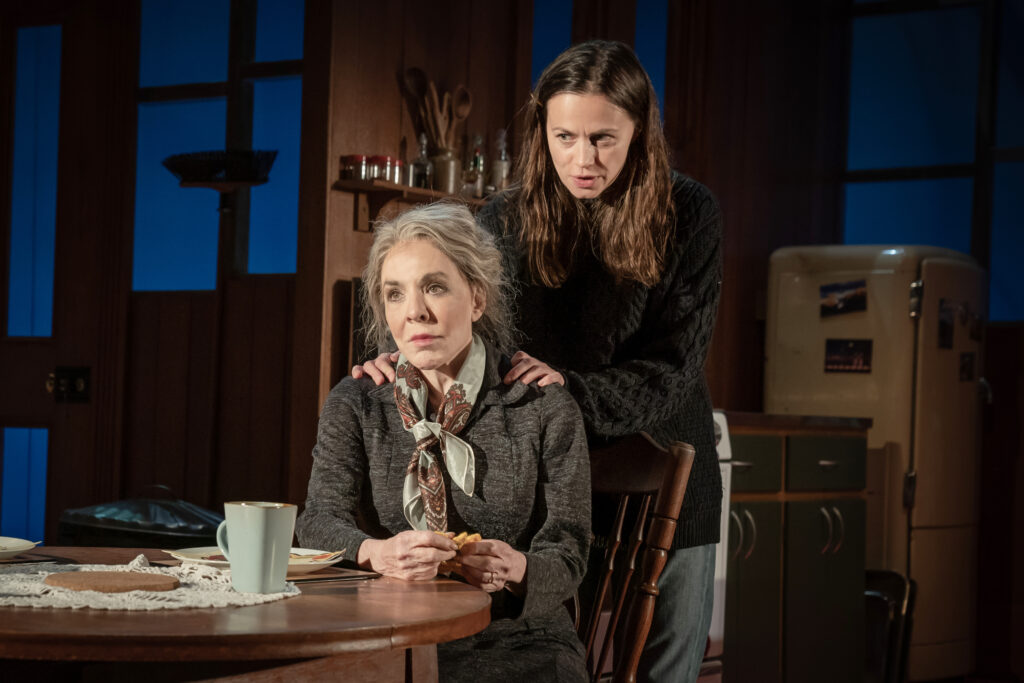 Marsha Normans 1983 Pulitzer Prize-winning drama has made its way back into its home theatre, Hampstead Theatre, with Stockard Channing and Rebecca Night bringing it back to life in 2021. There are very few relationships that can match the one between a mother and daughter, and 'night Mother certainly captures the intensity, the guilt and the affection that is mostly felt in these relationships.
This story takes place in an open plan kitchen/ living room brilliantly designed by Ti Green, complemented by beautiful lighting designed by Rick Fisher. Comedically blunt, the direction of this play was changed almost immediately when daughter Jessie (Rebecca Night) says to her mama (Stockard Channing) "I'm going to kill myself, mama." A lot of emotions are followed and portrayed through this play hereafter, with extreme relevance to the isolation many have felt throughout the pandemic in 2020. While this play touched on issues and subjects surrounding mental health and mental state, which doesn't get expressed in theatre very often, I can't help but feel this play kept chasing its tail around and around in circles not moving forward or changing pace.
This slow-burn play had all the ingredients to be a great story, however upon watching I can't help but feel something was missing; a spark. The mother-daughter chemistry between Stockard Channing and Rebecca Night was acutely accurate. Filled with maternal regret and guilt we see Thelma (mama) try to wrap her head around the event that has just been announced questioning her motherhood, and all of her actions surrounding the upbringing of epileptic daughter Jessie. Throughout this play, we are given countless reasons to live and on the other side of that were given all the reasons why that isn't possible at the moment.
The conversations of childhood trauma, a mum that can't let her little girl go and the emotionless defeat Jessie has is portrayed fabulously by Stockard Channing and Rebecca Night, however, their performance seems to have been let down by the lack of bite this story has. The concept of the last conversation and a last hooray is still very relevant in today's society, however, in the last 40 years, audiences have changed.
The generational gap we see in this play is still very clear and prominent in today's society and helps reflect the relationship some daughters have with their mothers. The subtle sexism we see in baby boomer parents hits many people close to home. If this play has taught us anything it's how the roles of parenthood change as we grow older and how damaging that can be to the children in this situation, who are still trying to work through traumas from their childhood. The emotionally powerful moments that came throughout this play did not have the emotional conviction they needed to capture the audience wholeheartedly. Overall, this play gives a touching insight into the consequences of rural isolation and the cabin fever many people have come in contact with over the last 18 months and will continue to be relevant for many years to come.