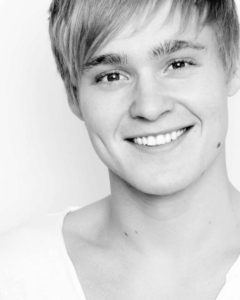 Ross is currently appearing as Roger in Rent at the St James Theatre until January 28th and then off on tour around the UK. Ross's theatre credits include My Fair Lady Proms 2012 (Royal Albert Hall); Charlie And The Chocolate Factory (Workshop); Ensemble and understudy to Warner and UPS guy in Legally Blonde (Savoy Theatre); Drew in Rock of Ages (Shaftesbury Theatre) and Ensemble as well as understudying and playing the role of Galileo in We Will Rock You (Dominion Theatre). Ross chats to fairypoweredproductions…
Tell me about your experience of Rent
It's amazing to be at the St James theatre, it's very intimate with the audience.  The story and the music are great.  I've never been in it before but I am aware of the songs and I'm loving it
Are you looking forward to touring?
I've never toured before, I've mainly done West End so I'm looking forward to venturing out and seeing how Rent works slightly modified for touring.
Are you looking forward to anywhere in particular?
I'm looking forward to York as it's close to home – just half an hour away on the train and I've got family and friends coming to see me.  And I'm looking forward to the Millennium Centre in Wales as it's huge
What is your favourite show?
I would have to say We Will Rock You as it was my first part out of Drama School.  I was 21 and supposed to be second cover but I ended up playing Galileo (the lead male role) for 4 weeks due to circumstances.  I was in front of 2000 people every night at the Dominion and it was amazing.  
What is your favourite role so far?
I would have to say Drew from Rock of Ages, that was my first lead role in my own right and not an understudy.  It was a brilliant show and I sang around 14 songs every night so it was  knackering but I enjoyed it
You appear as a vocalist on some CD's, do you have any plans to produce your own CD?
I've not got any plans but I do play guitar and write songs so you never know!
Have you ever done a straight play with no singing?
I've not yet but never say never, I'd love to do all kinds of different styles so plays, tv maybe films who knows
What made you decide to become a performer?
It got me a GCSE in Drama.  I did Performing Arts in year 7 and hated it but in year 10 it gave me the chance to play in band and get a qualification so I did.  I then got the opportunity to go to Stockton Riverside College which is a performing arts college and from there I went to Arts Ed and here I am
So if you'd not been a performer what do you think you would have done?
It sounds weird but I was obsessed with the weather when I was little so maybe a Weatherman or followed my dad into Engineering
Have you had any weird or nice gifts from fans?
I had a lovely Mulberry body wash once that smelt lush and a birthday cake with my head on.  I appreciate anyone who pays to see me and then cares enough to send me a gift
Do you fancy branching out in Producing or Directing?
Not really, I quite like standing on stage and performing – I think I'd rather be told what to do than tell someone else
What are your plans for the future?
Not sure.  I do gigs when I'm out of work, but I'd like to keep touring, maybe move out to Germany where they like Rock Musicals but just keep performing
With Thanks to Ross for speaking to fairypowered
Tour dates
31 January to 4 February 2017
Devonshire Park Theatre
Box Office: 01323 412 000
Website: www.eastbournetheatres.co.uk/venue/devonshire-park-theatre
6-11 February 2017
Churchill Theatre
Box Office: 020 3285 6000
Website: www.churchilltheatre.co.uk
14-18 February 2017
Festival Theatre
Box Office: 0131 529 6000
Website: www.edtheatres.com
28 March to 1 April 2017
Curve
Box Office: 0116 242 3595
Website: www.curveonline.co.uk
3-8 April 2017
Wales Millennium Centre
Box Office: 029 2063 6464
Website: www.wmc.org.uk
11-15 April 2017
Cheltenham Everyman Theatre
Box Office: 01242 572573
Website: www.everymantheatre.org.uk
8-22 April 2017
York Theatre Royal
Box Office: 01483 440000
Website: www.yorktheatreroyal.co.uk
1-6 May 2017
Lighthouse
Box Office: 01202 280000
Website: www.lighthousepoole.co.uk
9-13 May 2017
Belgrade Theatre
Box Office: 024 7655 3055
Website: www.belgrade.co.uk    
16-20 May 2017
Nottingham Playhouse
Box Office: 0115 941 9419
Website: www.nottinghamplayhouse.co.uk
23-27 May 2017
Assembly Hall Theatre
Box Office: 01892 530613
Website: www.assemblyhalltheatre.co.uk